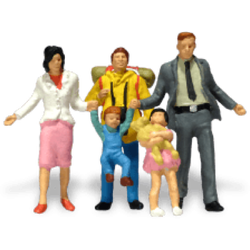 I can't afford it: Free admission to Miniatur Wunderland
There are many families for whom a visit to the cinema, theater or museum is too expensive. For those who cannot afford a visit to Miniatur Wunderland, free admission to the exhibition is available in January.
To all those people who cannot afford a Wunderland visit, we would like to give a little joy and invite them to join us in Wunderland in January. But who can't afford a Wunderland visit? We don't want to divide people into categories, but make it very simple: Who really thinks that he / she can't afford a Wunderland visit can make use of the offer.
The offer is not only valid for guests from Hamburg, but for everyone. A very important appeal: This is a matter of great trust. We hope that it will not be abused.
When booking, we ask to take into account that families with children can usually only visit on weekends. All those who do not depend on the weekend, we ask to use the offer Monday-Thursday, or on weekends late in the evening. We currently have very limited capacity and urgently need paying guests to survive in this difficult time. Therefore, we can only donate a maximum of 15,000 - 20,000 tickets. It will be booked out quickly during the coveted times. We therefore ask you to switch to off-peak times as much as possible.
Due to current Corona rules, it is mandatory to make an online booking beforehand. On site the use of the action is not possible.
If you still know colleagues or friends who can't afford the entrance fee and would appreciate it, please tell them.